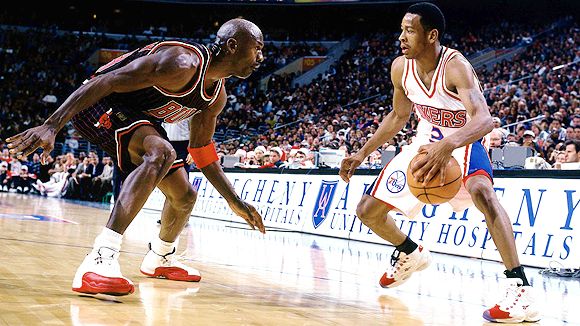 Allen Iverson returns to Philly to play against the Sixers for the first time since he was traded over a year ago. I hope to see Philly fans cheer for him when he walks onto the court, I hope to see the Sixers beat him while he's on the court, and I hope that they come together after the game. ESPN has several features discussing Iverson's career, and I think they got it right. He is a one of a kind player, he has never shown anything but heart, he makes you believe that he tries with every ounce of his energy, and that is what makes him so inspiring as an athlete. 2000 - 01 NBA season is one of my favorite memories, hanging out with 20 friends every playoff game, people who didn't care about basketball getting into every minute as he went one-on-one with Vince Carter. I thought when he was traded that it was the right thing for Iverson and the Sixers both - while I never wanted to give up seeing him up close, and I never wanted to root for him wearing other colors, I don't think he or the Sixers would have found any more success than they had in '01 together (at least with Billy King around), and they needed to go their separate ways to realize their own dreams. Philly is a team still in Iverson's vision - grit, effort, hustle - and they're winning, but with no-name players, and no single all star. Iverson is shooting a higher percentage, passing more, and turning over less than he ever has. If the Sixers make the play-offs and the Nuggets don't it will be Ironic, and somewhat unfair given how well the Nuggets have played compared to the East teams. I'm psyched about the Sixers success and I'm sad for Iverson that he may not see the success he deserves. I have only love for him as a player, and I hope the city shows him love too.
Make
sure to read Sheridan's article
on memories of Iverson, specifically his Olympic re-cap.
Also check out the
statistical projections that show the Sixers
as slightly favored over the Nuggets tonight.